Species of the Month, June 2014: Butterfly Weed
Note: This is the sixth post in our "Species of the Month" series, written by Park Ecologist Peter VanLinn. It's one of several 2014 initiatives meant to share knowledge we have about the Park with those who love it.
Following up on Forest Park Forever's successful Give STL Day effort in May — during which generous supporters donated nearly $12,000 for butterfly habitats in the Park — we are focusing June's Species of the Month post on Butterfly Weed (Asclepias tuberosa).
This plant is commonly referred to as Milkweed and is one in a group of native milkweeds that provides food, habitat and nectar for butterflies, including the monarch. The butterfly weed blooms in June, with large clusters of yellow, orange and/or red flowers and attracts all kinds of pollinator species, so it should be easy to notice on a walk through some of our natural areas. It is also pretty easily grown in a garden and a wonderful addition for any home gardeners looking to attract additional pollinators for their fruit and vegetable plants.
Park Locations:
Kennedy Savanna, Deer Lake Savanna, Steinberg Prairie
Plant Characteristics:
Leaves: Simple, alternate to opposite, to 10 cm long, hairy, narrow to lance-shaped, tip acutely pointed, dark green and on very short stems (petioles).
Stem: Often bushy with several stems from the base, densely leafed, hirsute and branching near apex; up to 60 cm tall.
Flowers: Clustered in terminal umbels, 5 petals of yellow-orange to dark red, blooms May to September.
Fruits: May – Sept., long seedpods to 15 cm with many tightly packed seeds in spirals, green to brown.
Seeds: 5 – 7 mm long, brown to black, margins narrowly winged, with terminal long silky hairs, becoming windborne when released.
 
Scientific Name: Asclepias tuberosa
Common Name: Butterfly weed
Plant Type: Perennial forb
Species Family: Asclepiadaceae
Summer Leaf: Dark Green
Fall Leaf: Not Significant
Bloom Color: Yellow-orange to dark red
Bloom Time: May - September
Fruit Color: Greenish seed capsules, mature to brown
 
Height: 60 cm
Spread: 46 cm
Exposure: Full sun
Moisture: Dry to medium
Soil & Climate: Dry to medium, well drained
Growth Rate: Medium to fast
Hardiness Zone: 3 to 9

Attributes and Features: Butterfly weed is a tuberous root. It typically grows 40 to 60 cm tall with several stems originating from same base. It features clusters (umbels) of bright flowers atop stem branch terminals. It typically has a long bloom period from late spring throughout the summer. No serious insect or disease problems are known, though crown rot can occur in poorly drained soils and some susceptibility to leaf spot and rust exists.
Ecosystem connections:
Native Range – throughout most of contiguous U.S. and into south and east Canada. Butterfly weed is aptly named for its use as a favorite nectar plant for many butterflies and its leaves are used for harboring eggs and feeding caterpillars of monarch butterflies (Danaus plexippus).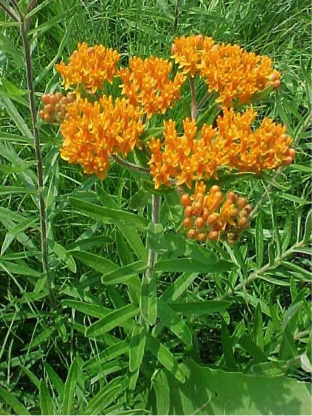 Culture:
Butterfly weed is easily grown in average, dry to medium, well-drained soil and in full sun. It is drought tolerant and does well in poor, disturbed, dry soils. New growth tends to emerge late in spring. Plants are easily grown from seed, but are somewhat slow to establish and may take 2-3 years to produce flowers. Mature plants may freely self-seed in the landscape if seed pods are not removed prior to splitting open. Butterfly weed does not transplant well due to its deep taproot, and is probably best left undisturbed once established.
Habitat and conservation:
Occurs in upland fields, prairies, glades, roadsides, wastelands, dry and rocky woods, wood edges and often on disturbed soil, throughout the state. There are nearly 20 species of Ascelpias in Missouri.
Note: Information has been collected from the Missouri Department of Conservation's Online Field Guide and the Missouri Botanical Garden's Online Plantfinder.