More to Explore: Deer Lake Savanna
Note: Throughout 2014, Forest Park Forever Park Ecologist Peter VanLinn wrote a monthly "Species of the Month" column for our readers. For 2015, we have asked him to launch a new "More to Explore" series — look for it throughout the seasons this year.
The goal of this new blog series is to introduce readers to the various "hidden gems" that exist, at least in my mind, throughout Forest Park. Many of Forest Park's estimated 13 million annual visitors are repeat users of the Park and a number of them visit regularly, even daily. Still, with a park of this size — 1,370 acres — it is difficult to see everything there is to offer. Every day brings new events and activities to the Park, and every season brings new changes to the Park. The continued efforts to improve the Park for users also brings new facilities, new sights and sounds, and new areas to explore. This series is meant to entice visitors to break away from their routine when visiting in order to enjoy even more of what Forest Park has to offer.
I often speak to Park visitors, whether by a chance meeting while out working or as part of a planned and coordinated program, and each interaction is unique. As the Park Ecologist, I work in some of the more "wild" areas in the Park. I can be found foraging through the John F. Kennedy Memorial Forest, pulling vines and weeds from the Hidden Creek Savanna or taking water samples along the restored waterway. Many of these "wild" areas are the result of purposeful restoration efforts conducted by Forest Park Forever, the City of St. Louis' Department of Parks, Recreation and Forestry and a number of volunteer groups.
The focus for this first installment is the area known as "Deer Lake Savanna." This area, located just east down Grand Drive from the Park's Dennis & Judith Jones Visitor and Education Center and near Deer Lake, is a complex of restored native plant communities and has characteristics that represent savannas, prairies and wetlands. This area was first planted with native grasses and wildflowers in February 2003. Since that time, continued management and upkeep have transformed the site from the grass lawn of a typical park setting to the colorful and beneficial ecosystem it is today.
The Deer Lake Savanna is one of the most ecologically diverse areas in Forest Park, hosting a wide variety of plants and wildlife. The combination of wetland, prairie and savanna community characteristics help attract water fowl like wood ducks and green herons, pollinators including the Monarch butterfly and the Carpenter bee and other wildlife including the three-toed box turtle and mink. Each of these species might utilize the area differently, taking advantage of tall canopy trees for good sight lines, using thick ground cover to hide from predators or swimming in the riffles along the waterway (restored in 2014). All of these characteristics help attract a broad number of wildlife. To date, records show that this site hosts more than 280 plant species (including more than 23 tree species) and more than 50 species of pollinators like bees, butterflies and moths.
There are a number of reasons that make the Deer Lake Savanna area so interesting to me. The opportunity to encounter wildlife is great here. Even if you can't always see animals, just give a listen while walking through the trails here and you will hear what all the buzz is about, especially during the summer season. This site also has some great history and culture engrained in it. The area hosts the Franz Sigel statue and the Council Circle outdoor classroom, both near the intersection of Grand Drive and Union Drive.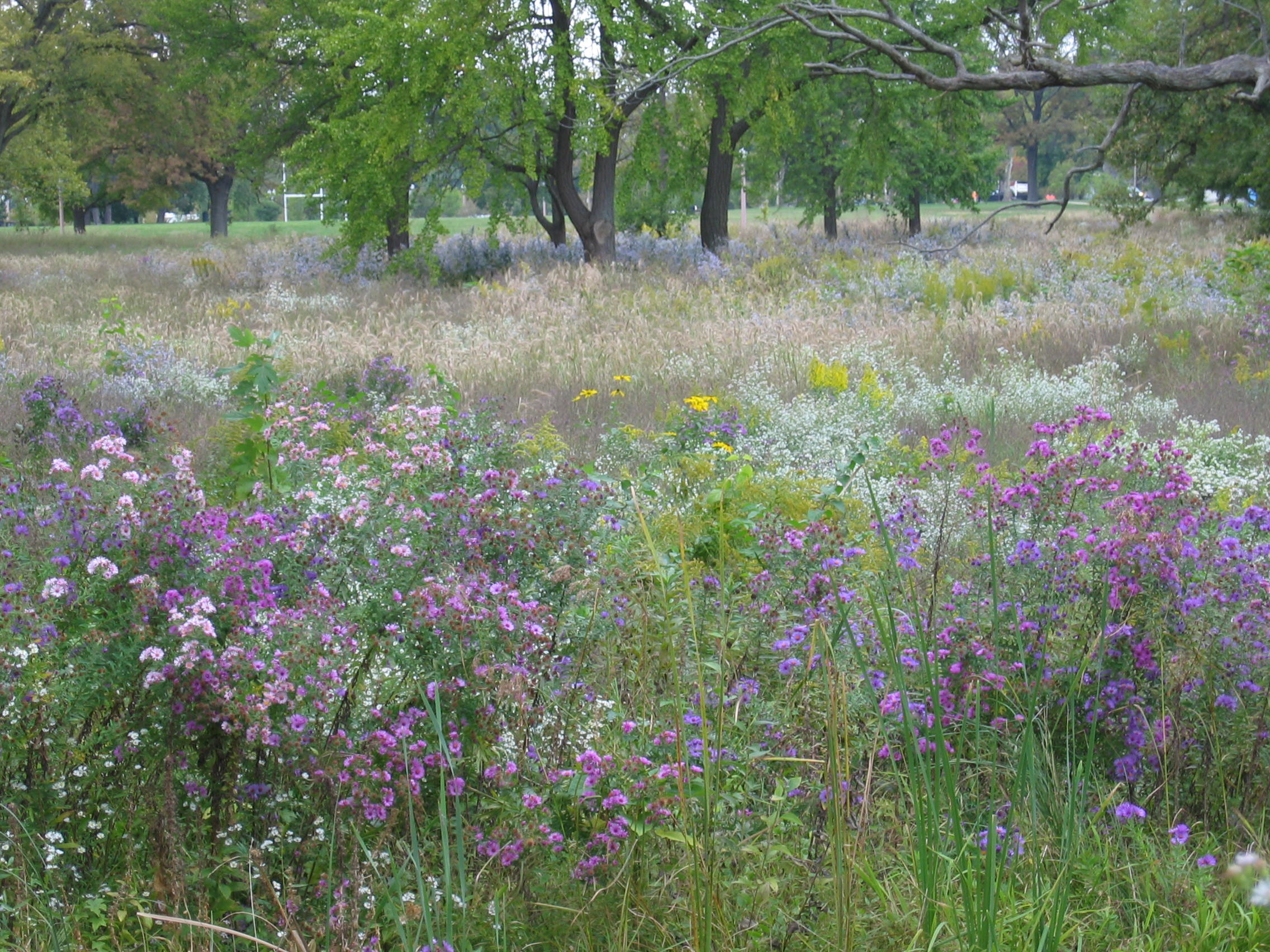 This site also holds a bit of personal significance to me as well since it was the first area to receive a controlled burn treatment in Forest Park, one of the first major accomplishments in my time with Forest Park Forever. That burn took place in December 2011, and we have since been able to conduct two more controlled burn days at four other sites. Lastly, the Deer Lake Savanna is one of the few areas I have seen in the Park, or anywhere else in St. Louis City, where you can get lost and almost forget that you are in the middle of a major metropolitan area.
One of my most notable memories of this area is introducing the site to one particular visitor. This nice woman was on one of the many walking tours I have done around Deer Lake. She talked much about her love for Forest Park and her own history and familiarity with it. As we walked and talked, I learned that she was a native to St. Louis and had been visiting the Park weekly for nearly her entire life. Now retired, she would still spend several days a week walking through the Park or utilizing one of the many Park facilities. However, as we came to one area of the Savanna, I was surprised and excited to hear her say that she had never seen this part of Forest Park before.
While this Deer Lake site is only 12 or so years in the making, being able to bring someone who already knew and loved so much about the Park to an area she had never experienced before was humbling and gratifying. I would encourage all Park visitors to get out and explore a new area whenever they have a chance, no matter how much they already think they know about it. There is still so much more out here to explore.